History
Norfos Mažmena UAB opened its first store in 1997, in Vilnius. In 1999, the company's shareholders decided to invest into the development of a retail chain. The chain opened a total of 43 stores from 2000 to 2002. This number grew to 87 by the end of 2004.
Norfa completed the year 2020 with 150 retail centres across Lithuania.
A Modern Norfa
In 2006, Norfos Mažmena began to change the brand image of its supermarkets, furbishing its new stores and renovating its existing ones based on a new concept. Special attention was paid to creating cosier stores that were not only functional but also had an aesthetically appealing interior. The design of each store is unique and developed based on an individual project. Norfa seeks to offer its clients not just quality products and services, but also a great environment for a cosy and pleasant shopping experience. Under the new concept, over 90 percent have already been installed at Norfos shopping centers. Norfos Mažmena plans to renew its remaining supermarkets in the near future.
Norfos Mažmena recognised as a leader in energy saving
In 2015, Norfos Mažmena was recognised as the company with the most efficient energy use in Lithuania. During an event that took place in February at the Litexpo exhibition centre, the company's management was awarded with the Green Protocol award.
Norfa began by teaching staff how to save energy and later inviting professional energy saving consultants, which earned Norfa a great energy efficiency result that surpassed all expectations.
By investing in innovative ideas, technology and energy-saving solutions, the company reduced its energy consumption by 25 percent and saved LTL 11 million over a period of 4 years.
Norfos Mažmena successfully implemented the idea of a smart supermarket, where all building utilities and energy consuming networks were integrated into one joint energy management system ensuring the more effective use of energy in supermarket buildings and their territories.
Norfa supermarkets were equipped with a smart energy management system that covered ventilation, air conditioning, cooling, heating and internal as well as external lighting. The system regulates all of the technological equipment that consumes energy. In addition to this, all new and renovated supermarkets are built and equipped according to high energy-saving standards.
Self-service shops
In 2018, NORFOS MAŽMENA initiated the installation of self-checkouts in their supermarkets. In almost all newly opened NORFA stores, the self-checkouts dominate by their number.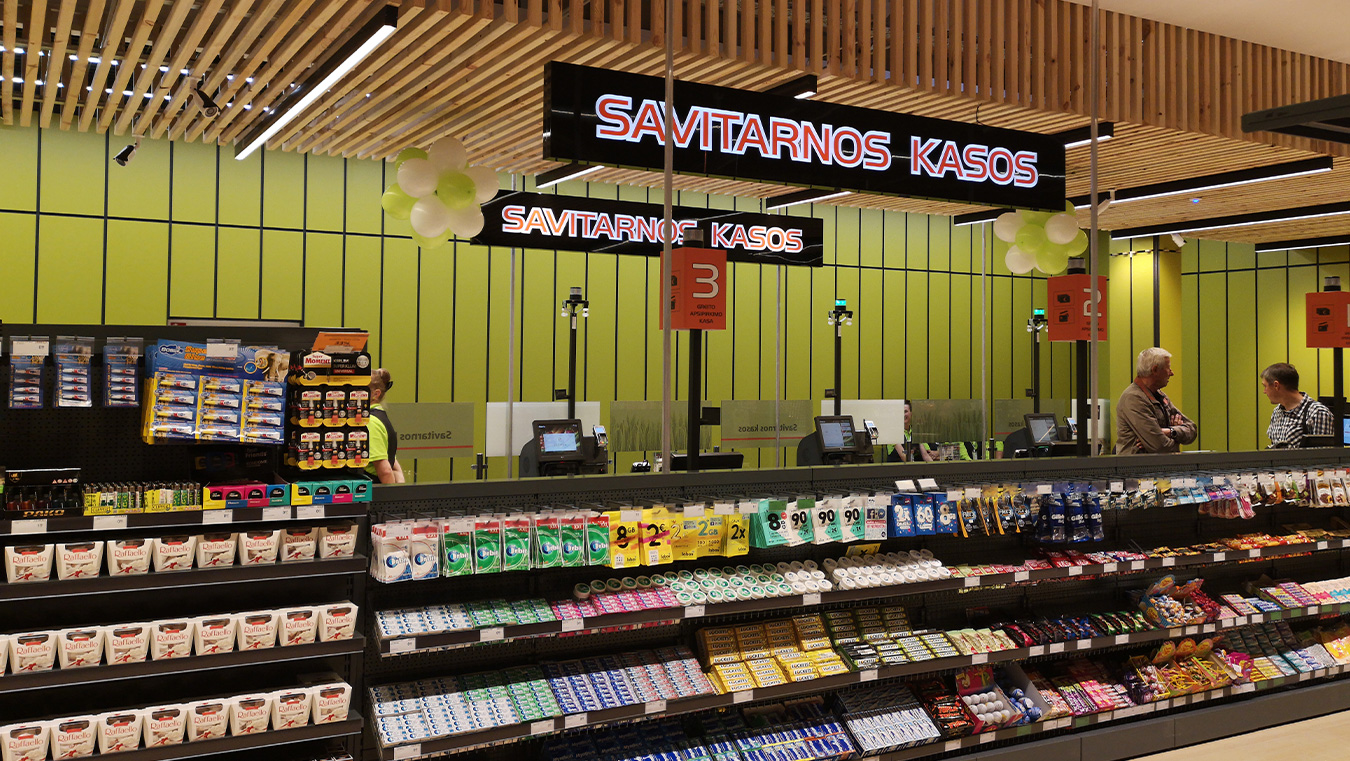 In 2020, there were 275 self -checkouts throughout all NORFA stores. NORFOS MAŽMENA is constantly adjusting themselves to the needs of their customers; therefore, it is installing mixed systems, i.e. self-checkouts operating along with ordinary ones.
You can watch promotional videos: https://www.facebook.com/Norfalt/videos